As a business owner, managing your energy effectively is a big priority. You're constantly seeking easy ways to reduce your energy consumption, lower costs, and contribute to a greener future. But with so much to consider, where do you start? Conducting a business energy audit can help you simplify things and create a plan of action.
What is a Business Energy Audit and Why Should I Conduct One?
Before we start looking at how to conduct a business energy audit, let's look at what a business energy audit actually is, and why it's important in energy reduction strategies.
A business energy audit is a thorough examination of your company's energy consumption, usage patterns, and energy efficiency across your operations. It involves assessing various aspects of your business, such as any buildings, equipment, lighting systems, and operational practices, to identify any areas where energy is being wasted or used inefficiently.
By conducting an energy audit, you can gain a detailed understanding of your energy usage, and create a plan of action to start reducing your consumption. The audit helps to create a strong starting point for businesses aiming to reduce their energy costs, minimise their environmental footprint, and develop more sustainable practices.
Conducting a Business Energy Audit, Step by Step
So now we've covered what a business energy audit is, let's take a look at how to conduct one. We've put together the following step-by-step guide to help you get started. And to make things even easier, you can download our FREE energy audit checklist as a template for the inspection stage.

Getting Started with Your Business Energy Audit:
Step 1: Gather Your Energy-Savvy Team
Round up your experts – or just a couple of volunteers from your team! Depending on your business size, there may be a lot to inspect, so it's always good to have a few pairs of eyes on it. Facilities managers or procurement staff are particularly useful colleagues to have on your audit team, as they will have an idea of where everything is located, and knowledge of your business utility solutions. Try to gather at least a couple of colleagues to help, so that there's always someone available to assist with energy audits and the questions that may come off the back of them.
Step 2: Define Your Audit Scope and Objectives
Clarify what you want to achieve with the energy audit. Whether it's assessing specific areas like lighting or HVAC systems, or conducting a comprehensive evaluation of your entire business, setting clear goals will keep you on track. Think about your wider business goals too. Are you simply looking to reduce costs? Or do you want to implement more green, sustainable energy practices to lower your carbon footprint? Before starting any inspections, write a short brief, about a paragraph long, that can be shared with stakeholders. This will ensure everyone is aligned to the same goal.
Step 3: Data Collection: Your Power in Numbers
Start by collecting data on your energy usage over a specific period. This includes going through utility bills, energy consumption records, and any historical data available. These numbers will serve as your benchmark for measuring future energy-saving initiatives.
Whilst you're collecting the data, keep an eye out for any anomalies or patterns. Are there certain months when your energy usage is high? Was there a period where usage spiked with no obvious reason? Take a note of these things as they will highlight particular areas to consider when conducting your investigation.

The Investigation Stage:
You can download our FREE business energy audit checklist to help with this stage.
Step 4: Start Your Business Energy Audit with Your HVAC Systems
HVAC systems are a significant contributor to energy consumption in commercial buildings, making them a prime target for energy-saving opportunities. Start by evaluating your boiler – How old is it? Does it need upgrading? Is it regularly maintained? Next move on to any heating or cooling equipment in the office, such as radiators, air conditioning systems, and electric heaters. Consider the flow of air around the space, and check there aren't too many obstructions that could cause particularly warm or cold areas.
Step 5: Shine the Spotlight on Your Lighting
Assess your lighting systems, including bulb types, wattages, usage patterns, and occupancy sensors. Consider making the switch to energy-efficient LED bulbs, making the most of natural light, and installing motion sensors in shared spaces to maximise efficiency. Check if windows and light shades are clean, and if outdoor lighting is set on a timer.
Step 6: Keep an Eye on Energy-Consuming Equipment
Identify all energy-consuming equipment and appliances in your building. Evaluate their efficiency, usage patterns, and maintenance records. Do upgrades need to be made to more energy-efficient models? Are switches labelled to stop equipment being turned on unnecessarily? Are staff using equipment efficiently, such as fully loading dishwashers and only boiling the amount of water needed for hot drinks?
Step 7: Assess Your Business Premises
Health and safety is crucial here, please do not attempt to do anything unsafe, and call in professional's where needed.
Inspect your business premises for potential energy losses. Look for air leaks, check insulation quality, and make sure there's no evidence of damp. Check all doors and windows close properly, and that windows are at least double glazed.
Step 8: Evaluate Staff Awareness
Educating staff on energy-saving best practices is a key part of reducing consumption. Check with your HR team to see if there is any training in place on best practices for new employees. Look for areas where energy waste occurs due to inefficiencies or a lack of awareness. Consider whether posters might help in shared spaces.

Follow-up Work:
Step 8: Spotting Energy-Saving Opportunities from your Business Energy Audit
Compile all the data and insights gathered during your business energy audit. Identify energy-saving opportunities with potential impact, cost-effectiveness, and quick returns on investment. Compare these insights to the goals you set out in the beginning, and use this to outline an actionable plan tailored to your business needs.
Step 9: Develop Your Energy Action Plan
Once you've drafted your outline, craft a comprehensive action plan detailing your recommended energy-saving measures. Include estimated costs, potential savings, and responsible parties for each initiative. Prioritise tasks in order of ease to complete, taking budget into account, and assign time-frames to each part. Decide how you will measure the effectiveness of each step, so you can monitor any energy-reducing strategies you implement. Present your plan to any stakeholders, and get approval on work that needs to be carried out.
Step 10: Monitor Your Progress
Put your action plan into action! Begin rolling out the energy-saving measures you've identified, starting with any quick-wins. Closely monitor their progress by tracking your energy consumption, reviewing any bills, and noting down any changes. Don't be afraid to make adjustments along the way, depending on what does and doesn't work. Set review dates to look back at your goals and the measures you've taken, report back on your findings, and schedule your next energy audit.

Start Reducing Your Business Energy Consumption
Conducting a business energy audit is a powerful step toward reducing costs, improving sustainability, and future-proofing your success. Audits will look different for every unique business, but this guide should serve as a strong starting point to get your energy saving plans underway. For more guides and tips on reducing energy consumption, check out our blog.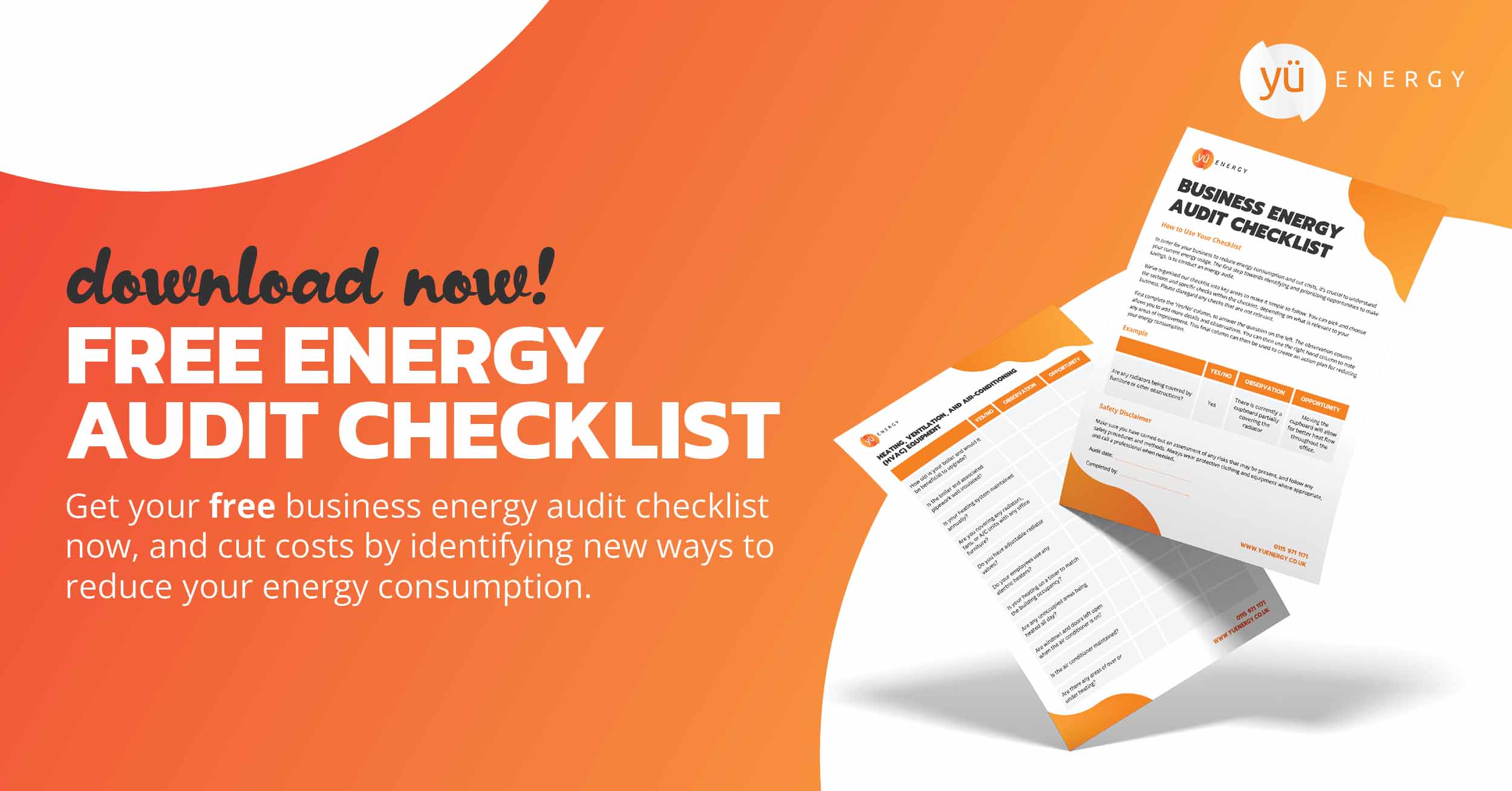 Don't Forget Your FREE Business Energy Audit Checklist!
Now you know how to conduct a thorough business energy audit, download our free Business Energy Audit Checklist to get you started.
Not a Yü Energy customer yet? Find out how much you could save with a quick business energy quote.